Shashi Tharoor- The hypocrisy that is matchless- Demean Diwali but "Enjoy Fireworks around the words".
Ever since the Apex Court has banned fireworks on Diwali, a debate is going on in the country between liberals and Hindus on the decision. One thing that amazes me is the shocking hypocrisy of liberals on this matter. They are cursing the tradition of Fireworks on the Diwali night and saying that "Their lungs are more important than a tradition in Diwali". They are right too, of course, human health is any day important than anything.
But the same liberals keep their mum when it comes to other religions. For example, they are silent on the gory site of blood filled roads on Eid, which pollutes and are a reason for the terrible health issues. They remain silent on the millions of trees which gets cut on Christmas.
And when a person like Chetan Bhagat raises such questions, they come and blast him all around the corner with a motto to silent the raised voice at any cost.
A few days ago, when the decision came, Chetan Bhagat said: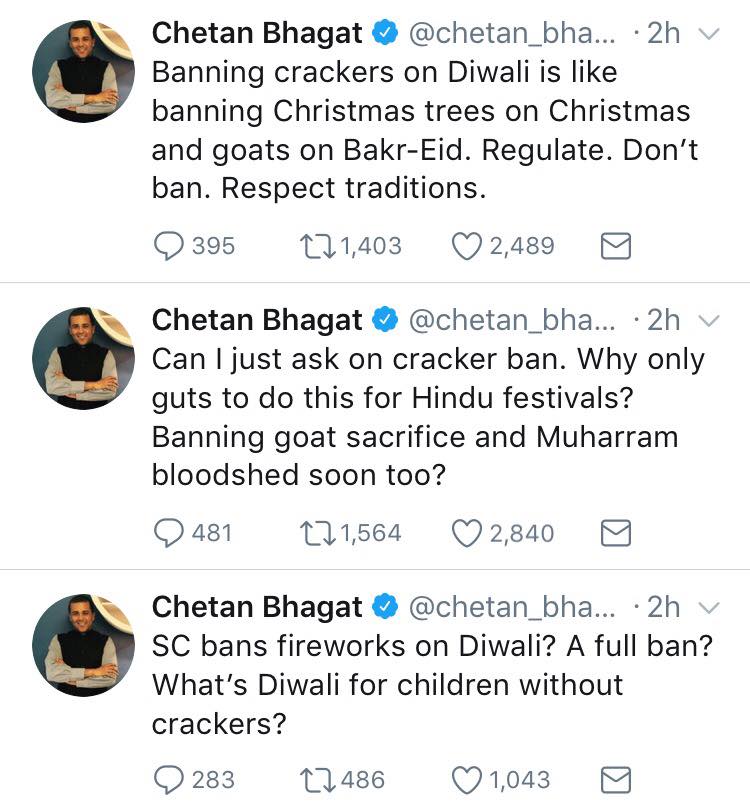 With such tweets exposing the hypocrisy of these liberals, people like Shashi Tharoor came in front and started bashing Chetan Bhagat. Shashi Tharoor even defended the Sacrifice on Eid:
Bakr-Id sacrifices hurt only goats; Muharram mourners flagellate themselves, but Diwali firecrackers affect celebrants&non-revellers alike.

— Shashi Tharoor (@ShashiTharoor) October 10, 2017
How cute and sweet is that? He is so worried about the environment. He further stated that if the ban is implemented in a good way, Hindu lives will be saved:
Really? How worried this man seems to be for the environment and the Hindu lives?
Well, he is busted, He is neither against the Pollution caused by the fireworks, nor he is worried about saving Hindu lives. All that he worried about is his Party's motto which is Vote bank politics.
Now see his Tweets in 2015 and 2017 when he Tweeted about the Fireworks:
In 2017: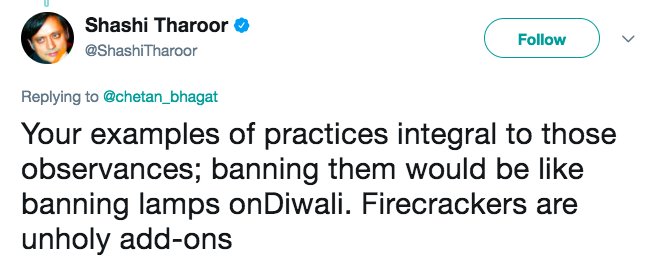 In 2015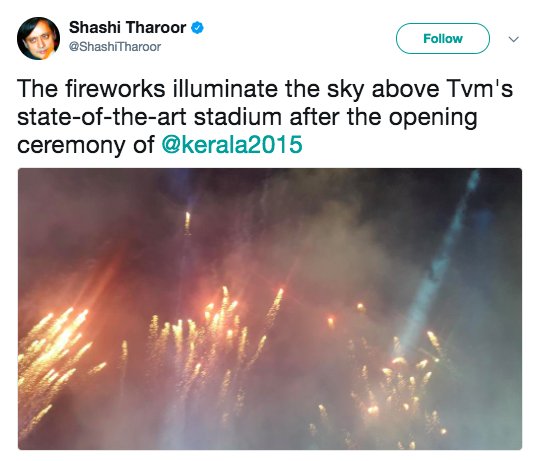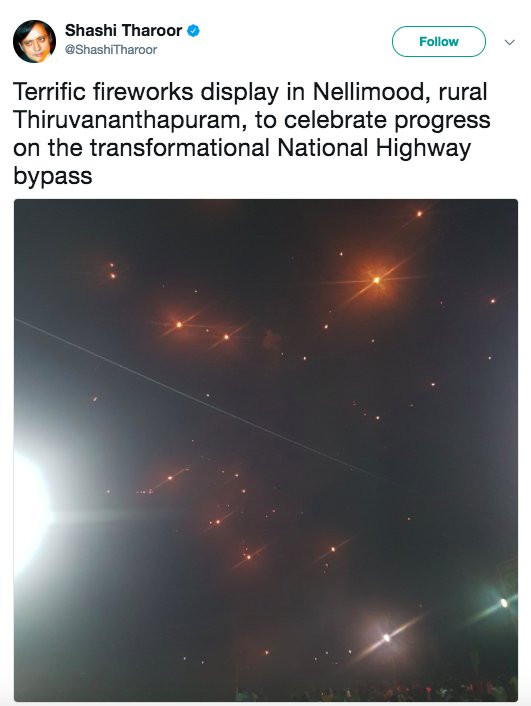 The only difference is, in 2015, it was happening on the inauguration of a National Highway or a Kerala day. In 2017, it is a Hindu festival Diwali.